Addressing consumers patterns and habits in their online quest for the perfect furniture
Regardless of industry, consumers today are faced with an overwhelming array of choice while online shopping. The theory of choice paralysis is that the more options people have to choose from, the harder the decision becomes. It's just too hard to make up our minds.
MarketingTech's research reveals that with more choices available, consumers increasingly expect the brands and retailers they interact with to provide a frictionless experience, guiding them to the perfect products and services.
In fact, 42% of consumers admit to abandoning a planned purchase because of too many options and 54% have abandoned a particular site because it was too difficult to find the right product. 71% will switch to a competitor that makes finding and choosing the right product easier and personalized.
Another research conducted by unfurnish.com, gives a statistical overview of consumer choice paralysis when in comes to online furniture shopping:
People spend approx. 38 days researching what furniture to purchase for their home
38% are overwhelmed with the amount of choice available
30% are worried to find a better option later
31% blame their 'purchase paralysis' on a lack of confidence in their interior design capabilities
68% say it is more important than ever that the items they buy are good value for money
36% find online furniture shopping the most challenging online shopping but 39% address it as their post COVID-19 priority
At least 30 hours of research are spent before selecting furniture or home décor items
Hourly Search Per Item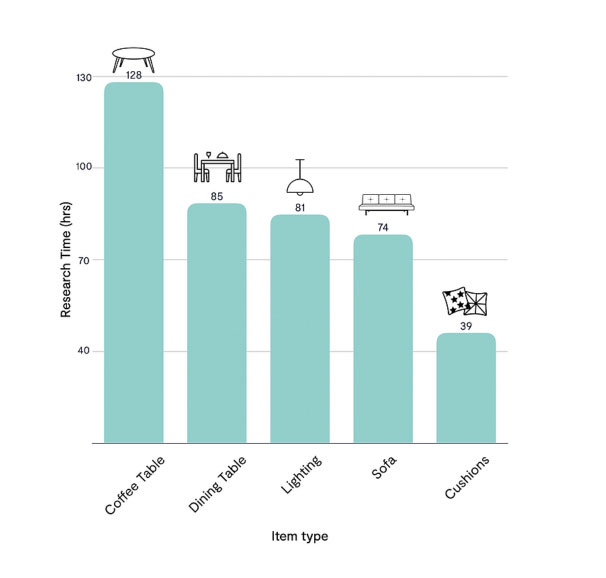 For consumers, trust, advice, and support are closely related and are the necessary building blocks for creating a genuine, trusted relationship with brands. As with many things, there is no universal rule. Yes, choice paralysis can be a problem, but this does not mean choice is a bad thing in itself when presented in the correct way.
Here are our tips for helping your shoppers overcome their choice paralysis:
Review data and identify areas for concern on your website
Capture qualitative and quantitative data to learn what is happening throughout the journeys and most importantly, why. Establish a process for reviewing data and translating it into action. Never forget the importance of feedback from real people. Stay on top of what people think, how well your website supports them and how well you understand the dynamic.
Introduce filtering as part of the natural selection process, without making it obtrusive
Good filters will break the choice down into more manageable chunks. A series of smaller, better-defined decisions will be easier to process and convert. When implemented well, filters allow shoppers to limit the scope of their product search to the handful of products that match their preferences. When all the shopper data is properly synced with automated deep tagging, the filters help with the first layer of a tailor-made journey, all the way to the shopping cart.
High Quality Product display – showing is always better than telling
A crucial issue for furniture and home décor display when touching the cushion or sitting on the sofa are not an option. Be sure to display all product angles, whether within a gallery or with a 360 viewer. Also include video when static photos do not do the item justice or sizing is an issue. Be sure to add visual context by displaying inspirational lifestyle imagery with the product, making it easier for shoppers to "get the big picture".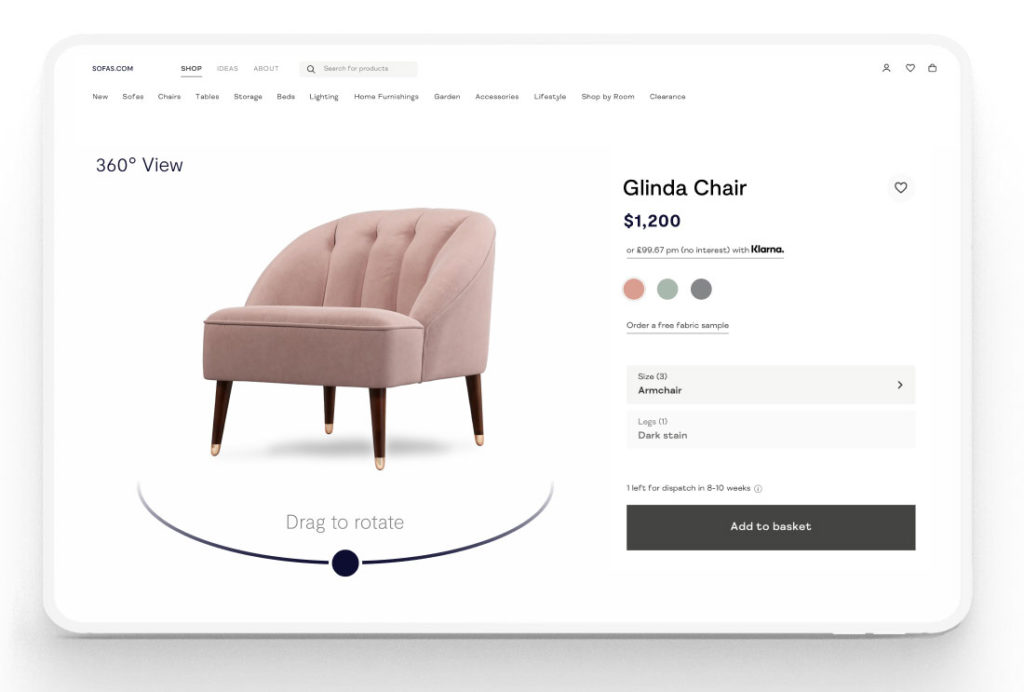 Read More About our main features:
Retail AI
Complete The Look
product recommendation engine
product matching in ecommerce
Online Merchandising
Personalizing Personalization
Recommendations – a safe zone
Recommendations lift conversion rate by reassuring shoppers with choice paralysis. Recommendations also increase AOV since they allow displaying complimentary items in an intuitive way within the same window, without requiring further navigation.
Personalized recommendations should combine AI with each shopper's individual behavior producing real-time accurate product suggestions. Faced with the right products in the right setting sharpens the end game for shoppers and shortens the decision-making process, transforming a generic journey into an emotionally driven, individualized online experience.
Innovation = Engagement
Gamified 3D or AR furniture display options are designed to trigger an emotional attachment to the products. They allow furniture brands to deliver a try-before-you-buy shopping experience with realistic product visualizations. Another option is incorporating design platforms and floor plan adjustable features for the savvier shoppers and the ones that want to have a go at professional interior design using their own room images or sizes. The option of creating a completely different setting for each shopper around the same anchor product will surface their inner child making the exploration phase enjoyable and stress free.
Virtual showrooms – a new industry standard
With the correct placement on your website, this is the perfect way for bridging the online gap. Virtual showrooms and combined online/physical store showrooms provide a unique futuristic experience while giving you the option to promote best sellers, target products and new collections with endless realistic product display options and cross category intuitive up sales.
AI digital assistants and conversational personalization
Whether it is with an interactive questionnaire, a bot or a real sales rep chatting online, be sure to choose a way to replace the brick and mortar friendly, accurate personalized assistance. Digital assistants improve customers' decision confidence with accurate products, uncover data blind spots and can deliver valuable insights. They can also be used to communicate personalized recommendations popping out during online shopping trips.
The next best thing – optimized default list
Retailers show all product categories even though 80% of customers purchase from the top three. The problem with this approach is that the user experience of the majority suffers to cater to the minority. That is not just bad for the experience of users; it is terrible for sales. The thumb rule is default to the most common choices and hyper- personalize with the right data and technology when possible. However, even when you truly "know" the shopper the first suggested product might not be the perfect match. Having about 6 optimized default items can reduce the cognitive load , while not taking away the choices available to them and still ensuring a quick personalized experience.
Next -gen remarketing campaigns – the wish(list) comes true
Every touch point is an opportunity for wowing customers, making them trust you and establishing long-term retention. Presenting the products customers added to their baskets, wish lists and 'saved for later ' in full room designs or inspiration boards will attract them back to your site with a specific mission in mind. Hyper personalized campaigns will deliver the message of 'unique shoppers with unique needs' and make them feel empowered while making the right choice for them.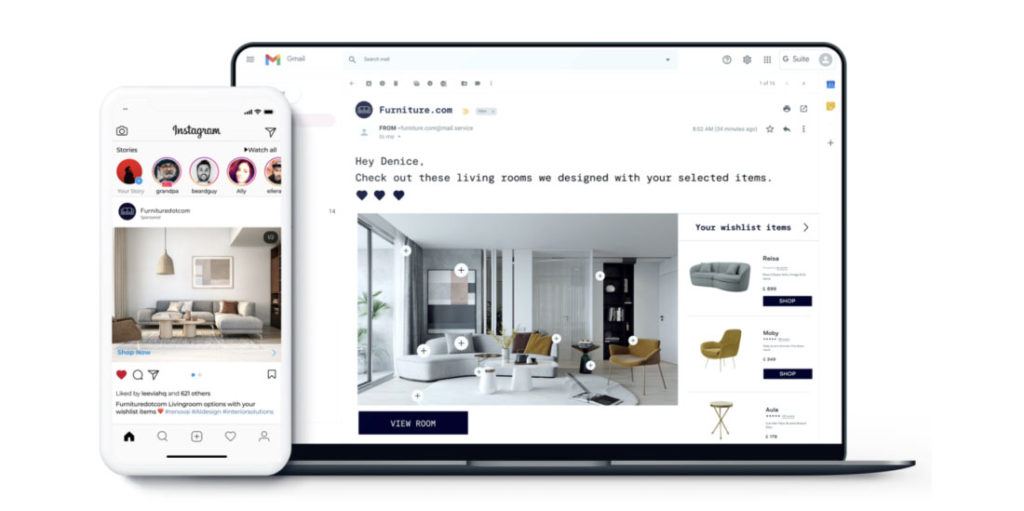 Forget about click-based personalization or mindless retargeting that can result to purchase paralysis. Gaining trust and reassuring your customers they are making the best decision is all about studying them and delivering an understanding experience with perfected results as if they were hiring the services of a renowned interior designer.
Read More About our main features:
Product recommendation engine
Online merchandising
Product recommendation quiz
product matching in ecommerce
complete the look